• Custom Application Development

Custom application is a software that has been designed and programmed to satisfy the client's specific needs. The packaged applications are designed with a general set of features to be used by a broad range of users while custom application development is capable of producing practically any feature the client may desire for his business.
The custom solutions provided by Parmajeh development team have a competitive advantage by using technology in the most productive and effective way than our competitors. These solutions are reasonably priced to allow both large and small companies in reducing expenses and retaining a competitive advantage in their own industry.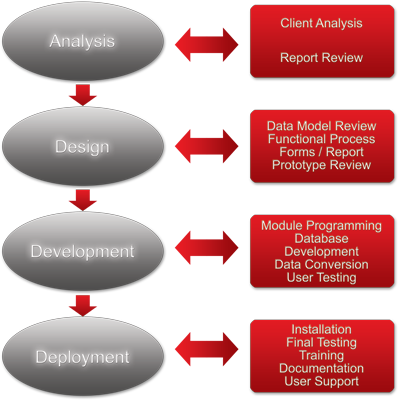 Desktop applications and web-based solutions can be developed in multiple technologies. We provide our services as a part of enterprise solution or specific solution in various technologies. The core expertise of Parmajeh Software ranges from medium to large-scale software development projects. Our solutions are refined to provide optimal benefits and tone-down the complexity of the client's business processes, improve his performance and accelerate his business productivity.
Our software development team provides total flexibility in terms of custom application development - the process is essentially "Client Driven". All custom applications must go through a well defined Quality Assurance process.
The Custom Application Development process normally includes, but is not limited to:
Comprehensive and detailed analysis of the business needs (MRS).
Preparation of software requirement specification (SRS).
Preparation of the software architecture design (SAD).
Initial design concept.
Full system Implementation.
Testing/validation.
Client support (Training & support material provided).
---
• Web Design And Development

"We are determined to achieve the best results."
We design and produce the best quality sites under the supervision of experts in the field. The products are tailored to the customer's needs, with an interactive function to enable easy editing and regular updating without entering the complexities of web design.
Even if the client already has a website that is not performing as he projected, or may be experiencing problems and is puzzled with bugs and dead links. Whether they are design related problems or coding we can help by giving the client's online endeavor a facelift and adding new exciting features.
It is important to have a user friendly system to allow management of website content. The content management system (CMS) which allow the client to control the content of their website can cut down on the website maintenance cost by a large margin. The client can update their website in case of any addition or removal of any products or for promotional sake. Some of the CMS benefits are: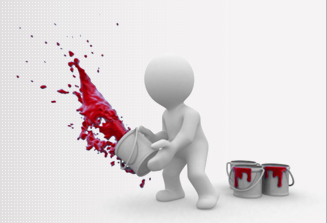 Allows non-technical staff the ability to update web site content without knowing programming languages.
Control access to data, based on user roles (defining which information users or user groups can view, edit or publish).
Reduced duplication of information.
Reduced site maintenance costs.
Greater capacity for growth.
Our websites are designed and programmed according to international standards, bringing us rival to the world of interactive web-service. Our service has numerous other advantages:
Working in accordance to the latest software design.
Working in accordance to the latest versions of programming languages, with easy interaction and rapid development.
Customized design according to the specific requirements of each customer.
High-quality image and flash features using precise modern techniques.
Strong and impenetrable security system within the site's programming.
Accommodation of company databases.
Design proposals delivered within a specified period of time.
Continuous customer follow-up throughout the site's lifetime.
Commitment to the development and maintenance of the site according to agreed terms.
Dealing with both dynamic (CMS) and static sites according to market needs.
Incorporation into search engines and providing region-specific competitive advantages.
Managing site content quickly and efficiently.
Providing web-space to host the site.
Choosing a suitable domain name.
---
• Website Services

Web hosting: We provide hosting services with multiple plans to fit the client's needs. The following are some of the available hosting plans, other plans can be made available based on specific requirements:



| | | | | |
| --- | --- | --- | --- | --- |
| Key features | Plan 1 (basic) | Plan 2 (bronze) | Plan 3 (silver) | Plan 4 (gold) |
| Diskspace | 1 GB | 4 GB | 6 GB | 10 GB |
| Monthly Bandwidth | 10 GB | 40 GB | 60 GB | 100 GB |
| E-mail Accounts | 5 | 20 | 30 | 50 |
| E-mail Management | Yes | Yes | Yes | Yes |
| MySQL 5+ Databases | 0 | 2 | 4 | 6 |
| Control Panel (CPanel) | Yes | Yes | Yes | Yes |
| PhpMyAdmin | No | Yes | Yes | Yes |
| PHP Interpreter | Yes | Yes | Yes | Yes |
| Perl (CGI-BIN) | Yes | Yes | Yes | Yes |
| Secure Shell (SSH) | No | No | Yes | Yes |
| FTP Access | No | Yes | Yes | Yes |
| Website Traffic Stats | No | Yes | Yes | Yes |
| Free offsite backup | No | Yes | Yes | Yes |



Domain name: We provide domain name registration service for both Arabic and English domain names.


Online Marketing Services:
a. Search Engine Optimization
i. Drive traffic to your website by achieving high rankings in search engines for valuable keywords.
ii. Keyword research unveils valuable search terms.
iii. Website architecture and content are optimized.
iv. Link building is performed to increase rankings.
v. Website analytics help measure results achieved.

b. Social Media Marketing
i. Reach client's audience in new ways through social media to build brand trust and loyalty.
ii. Target influencers in client's market niche.
iii. Increase word-of-mouth referrals.



Branding & Print Graphics: They say that first impressions last. The first impression most people have of client's business is the logo.
i. We design logos that speak to your audience and communicate your company values.
ii. Your logo should build trust and be memorable.
iii. A well-designed logo can take you to the next level as a company.

---
• Industries

Medical and Healthcare.
Travel and Hospitality.
Financial and Insurance Services.
Media and Entertainment.
Trading & Distribution.
Manufacturing.
Software.



---
• Why Choose Parmajeh?

Ability to improve our client's cost management.
Ability to enhance our client's business productivity.
Possessing in-depth knowledge of the client's requirements.
Ability to make innovative decisions focusing on client business needs which lead to successful software customization services.
Having long standing experience in this field.